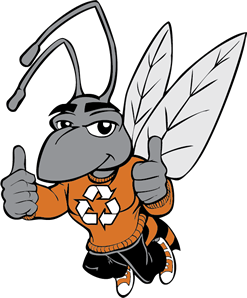 For almost 30 years, Kalamazoo College has used recycling to create a more sustainable campus and to expand its initiatives to include the reduction of waste and the re-use of materials. Our recycling program exists at the forefront of the College's commitment to sustainability and a carbon-neutral campus.
Where can I recycle?
Each dorm room has a small blue bin for your recyclables. When full, drop recyclables at the nearest recycling station, either between Harmon and Hoben, behind Crissey and Severn, or in the parking lot between Trowbridge and DeWaters. Each academic building also has large blue bins for recycling. Large blue bins take all recyclables: paper, cardboard, plastic, etc.
What is recyclable (in commingled recycling bins)?
**Note: All recyclables should be clean when deposited in the commingled recycling bins.
Newspapers
Paper
Cardboard: Flatten all boxes before placing them into the bin. Pizza grease renders cardboard unrecyclable but if you rip off the parts without grease it can be recycled!
Plastic: numbers 1-5 and 7
Glass, aluminum cans, tin cans
Aerosol Cans: Aerosol cans must be empty before they are recycled. After emptying its contents, drop into the commingle bin
What is not recyclable (in commingled recycling bins)?
Styrofoam
Batteries, CFLs, and other e-waste
Tissues, Napkins, Candy Wrappers, Items with Food Residue, Food
E-Waste
E-waste is any item involving a circuit board, wiring, or plastic and metal that cannot easily be disconnected. E-waste also includes electronics that may be hazardous if thrown in the garbage or commingle stream.
Other types of e-waste items include: computers, printers, cartridges (ink or toner), cell phones, calculators, batteries, electric motors, light bulbs, peripherals (keyboards, mice, etc) and wires.