Decomposition is a beautifully essential part of the living experience. At the Composting Program, we have the honor of facilitating a process that not only enriches campus soil but our entire ecological network. Founded in 2009 by Rob Townsend (formerly employed by Facilities Management) the Composting Program continues to be student-led with the support of Facilities Management and the Larry J. Bell '80 Environmental Stewardship Center. Kalamazoo College faculty, staff and students can drop off their food scraps at the Grove while the Composting Crew collects food waste around campus. Every Sunday at 10 am, the Crew hosts Community Composting to compost all the food waste. In the Fall and Spring, Crew members teach Composting as a PE class. Throughout the school year, the Composting Program aims to inform the campus community about the ecological environment alongside our relationship to food and waste.
The Grove is where the magic happens. It is the forest area between the Living Learning Houses, the Arcus Center for Social Justice, and the Trowbridge parking lot. The entrance is to the right of the stairs in the DeWaters parking lot. The Grove is home to a variety of different organisms as well as the composting shed, green buckets, tools, and compost piles the Crew uses to process the food waste we collect. We maintain our piles throughout the school year and when the piles are finished, the soil is open to everyone!
The Grove hosts a variety of activities designed to foster a relationship between the composting program and the Kalamazoo College community. With K students, we host Groove Grove, Smashing Pumpkins to the Smashing Pumpkins, and the Composting Class. Groove Grove is an arts-based event where students gather in the Grove, enjoy performances by their peers, and eat together. Smashing Pumpkins allows students to get into the Fall spirit by destroying rotting pumpkins and composting the remains. In our PE class, students learn about compost by composting in the Grove! This class is facilitated by two Composting Crew members with the help of Sara Stockwood, the class's faculty advisor and the Director of the Larry J. Bell '80 Environmental Stewardship Center. These three activities help students build a connection with the Grove and better understand what its purpose is on campus.
Open to the larger campus community, we host Community Composting. This is held every Sunday from 10 am to 12 pm and consists of data collection, composting, and cleaning buckets. Anyone is welcome to join Community Composting!
We only have capacity to compost food scraps from Kalamazoo College students, faculty and staff at this time.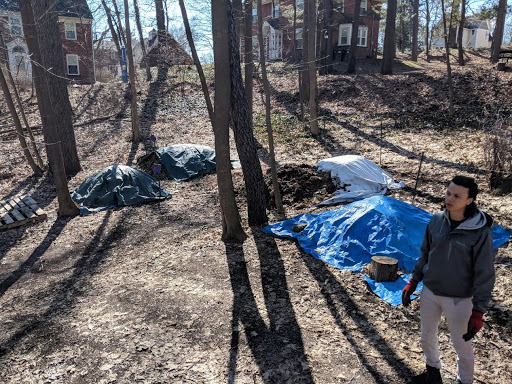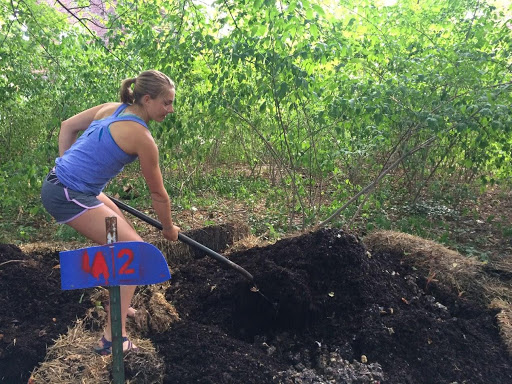 How to participate:
| Compost in your Office | Collect food waste at home (for K students, faculty & staff) | Join Community Compost |
| --- | --- | --- |
| Request a compost bucket for your department or office! Buckets will be picked up weekly during academic terms. | Pick up a green bucket at the Grove, take it home, collect food waste and exchange your bucket at the Grove any time. | Join Community Composting on Sundays from 10am – 12pm in the Grove. We compost all of the buckets collected during the week. |
| Dining Hall Composting | Take the Composting PE Class |
| --- | --- |
| If you eat in the Dining Hall, you participate by sending any food scraps back to the kitchen that get composted with My Green Michigan. | Students can take the PED-128 Composting Class in fall and spring terms. |
Contact
Questions? Want to get involved? Email: Composting@kzoo.edu